The famous Hollywood star Elizabeth Taylor was known not only for her exquisite beauty but also for the precious jewellery pieces that she owned, many of them gifted by her seven husbands, one of whom she had married twice. Her life was full of twists and turns. But her love for expensive jewellery is legendary. At her death, Taylor's jewellery collection was reportedly worth $150 million. Her other passions were perfume and fashion. It is difficult to say whether the jewels or her face was more stunning. However, both complemented each other fabulously.
Declared to have the "face and grace of an angel" by the Artists' Group of America, the 18-year-old posed in her studio dressing room. She soon landed more grownup roles in
Father of the Bride
and
The Big Hangover
. He had won two academy awards for her performances in Butterfield 8 and Who's afraid of Virginia Wolf? besides a string of other awards.
Elizabeth as Cleopetra
Some of the stunning jewels were auctioned by Christie's on December 15, 2011, just last month--- fetching a whopping $116 million-- and literally shattering all previous records for a private collection of jewels. And interestingly, one of the records earning was made for an Indian jewel.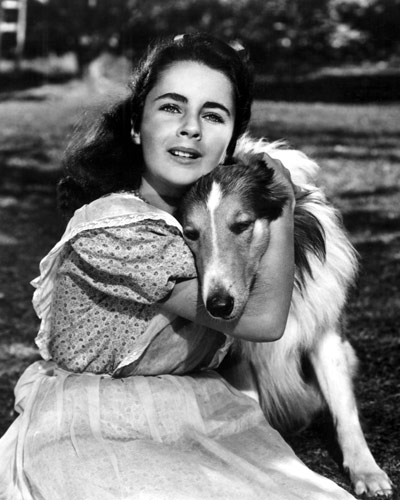 As a child artiste
Feast your senses with a look at these spectacular jewellery collection that went under the hammer and more:
This 33-carat, potentially internally flawless diamond, set on a ring, was a gift from her husband Richard Burton.
This Pearl, ruby and diamond necklace with a 203-grain pear-shaped pearl discovered in the 16th Century as its centerpiece. Designed by Elizabeth Taylor, with Al Durante of Cartier, it was a gift from Richard Burton on January 23, 1969. The pearl, discovered in the early 1500s in the Gulf of Panama, became part of the crown jewels of Spain. Prince Philip II of Spain gave it as a wedding gift to his wife, Mary Tudor of England, and it later passed on to the Spanish queens Margarita and Isabel.
The 8.24-carat ruby and diamond ring by Van Cleef & Arpels was a Christmas gift from husband Richard Burton in 1968.
From the Italian jewelry house, Bulgari, the Art Deco style sautoir is set with a 52.72-carat cabochon sapphire. It was gift from Richard Burton for Taylor's 40th birthday in 1972.
Elizabeth with Burton
The Prince of Wales diamond brooch, circa 1935, from the collection of the Duchess of Windsor, was bought by Taylor at an auction.
The gold and ruby chain by Cartier, Circa 1627 – 28, was a gift from Richard Burton, for Elizabeth Taylor's 40th birthday in 1972. Inscribed with the name Nur Jahan, the wife of the Mughal Emperor Shah Jahangir, this heart-shaped diamond, also called Taj Mahal Diamond, is believed to have been a gift from the ruler to his son, who became the great emperor Shah Jahan (1592-1666). At the age of 35, it is believed that the young prince presented the diamond to his favorite and most beloved wife, Mumtaz-i-Mahal. The emperor's grief at her death just four years later inspired him to commission the majestic Taj Mahal in her memory.
This Night of Iguana brooch-- the serpentine jewel – by Jean Schlumberger, Tiffany & Co.—was fashioned of diamonds and gold, with emerald and sapphire accents. It was a gift from Richard Burton to Taylor on August 11, 1964, to wear on the premiere of his film, "The Night of the Iguana."
This lion-themed Granny suit necklace was also gifted by Burton to Elizabeth on becoming grandmother.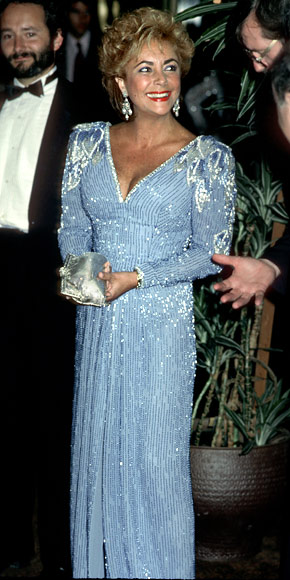 At a movie premier
Mike Todd-gifted diamond-Tiara.
The turquoise and gold Egyptian revival motif Cleopatra Mirror was created by Bulgari in 1962 at the time the epic film Cleopatra, starring Richard Burton and Elizabeth Taylor, was finishing production in Rome.
This gold bracelet of 20 charms includes an engraved clapperboard commemorating "The Taming of the Shrew," a gold jeweler's loupe inscribed with Elizabeth's name, and a gold sphere locket that opens to reveal four medallions—each one engraved with the names and birth dates of each of her four children.
Some lingering images...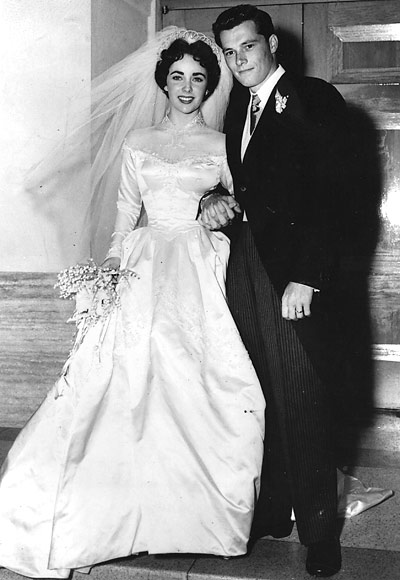 First Husband Conrad Hilton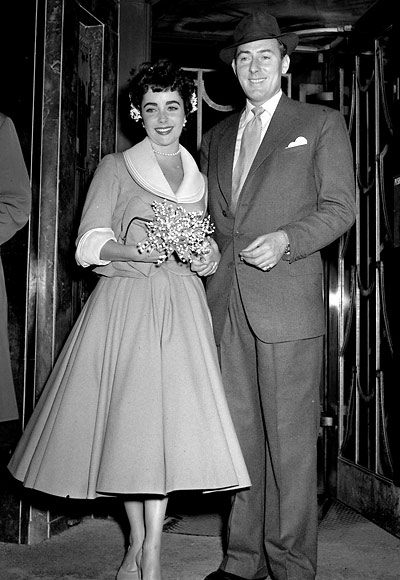 Second husband Michael Wilding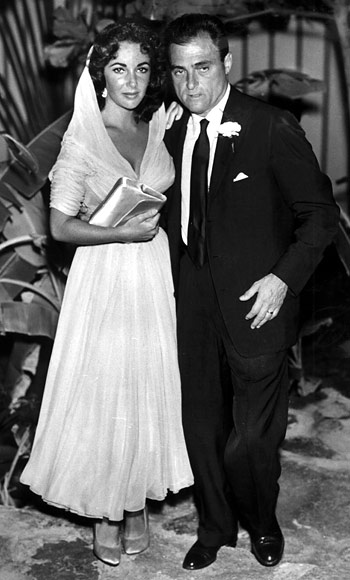 Husband Mike Todd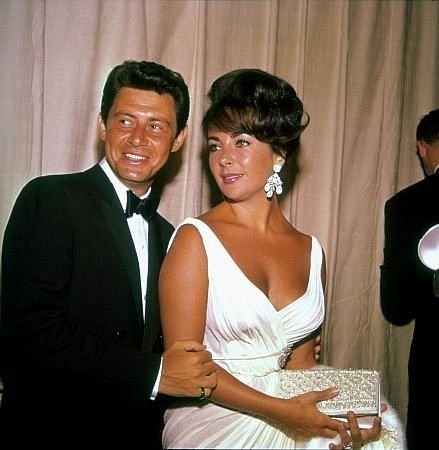 With Husband Eddie Fisher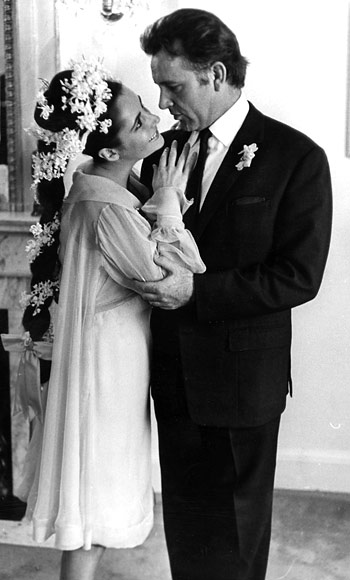 With Husband Richard Burton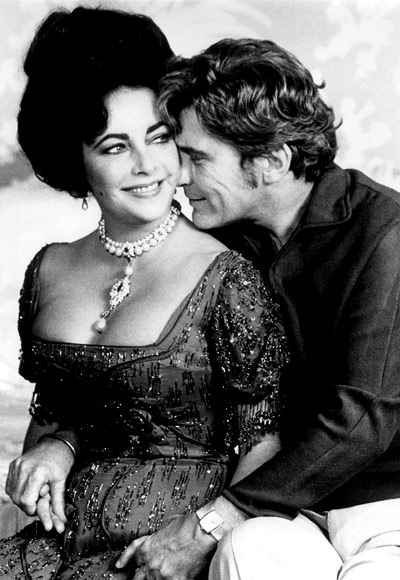 With Husband Senator John Warner
With construction worker husband Larry Fortensky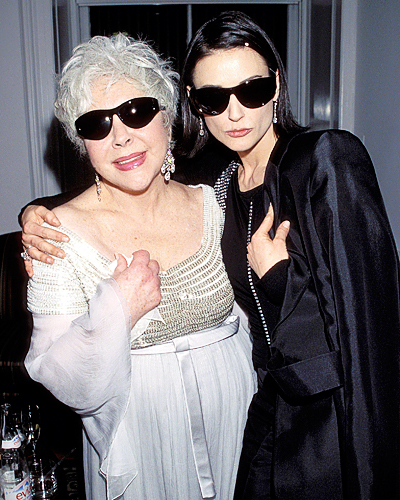 Liz with Demi Moore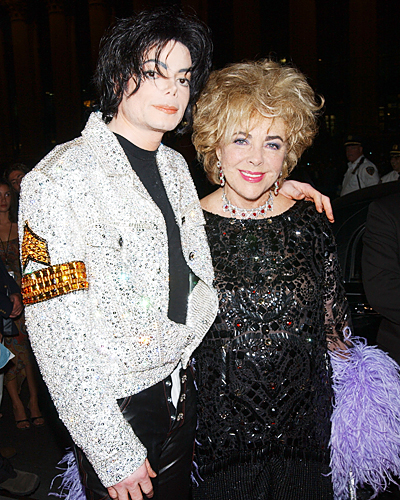 ...and Michael Jackson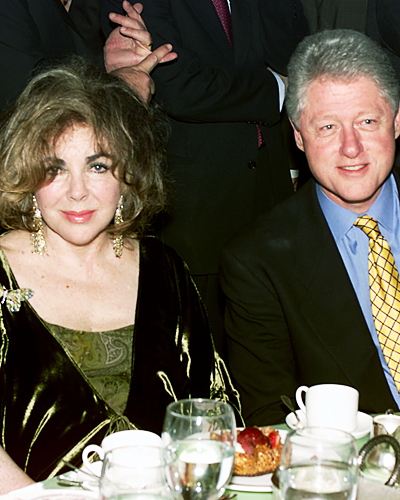 With President Bill Clinton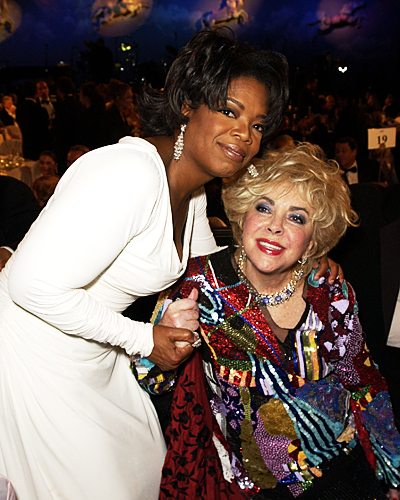 Posing with Oprah Winfrey
Taylor struggled with health problems much of her life. She experienced serious medical issues whenever she faced crisis in personal life. She was hospitalised over 70 times in her lifetime.
Dubbed as the 'Greatest movie star of all", Taylor started her career as a child artiste at the age of 12. She was the subject of at least 53 books and was among the first celebrities to devote considerable time in humanitarian work-- collecting funds for HIV and AIDS-related projects and charities.