Bibi Russell is a Bangladeshi fashion designer of repute and is involved in reviving the dying textile art of her nation. She herself is a fashion icon and draws attention with her individualistic, a bit bohemian, style of dressing.
With her vibrant colours, array of blings, including bangles and nose ring, her embroidered and tassled tribal bags, spectacles with multi-coloured frame, a gamchha-style checkered turban or stole-- she evokes strong reactions wherever she goes. "Colours are part of Bengali life. They are our richness", she declares proudly.
Bibi Russell in her younger days






What really strikes me about Bibi is her down-to-earth style, sans make-up or fancy hair-styles, despite several years of hobnobbing in the world of high-fashion.
Bibi Russell creation



She was a supermodel and had bagged modelling contracts from the house of international designers like Yves Saint Laurrent, Karl Lagerfeld, Giorgio Armani and also with Vogue and Harper's Bazaar. Bibi was the first woman from Bangladesh to pursue her studies at the London School of Fashion way back in the '70s. And while modelling her collection at the graduation event, she was spotted by the designer houses and offered the contracts.
A model in Bibi Russell creations
Bibi Russell's Gamchha collection
Since then Bibi Russell has made lots of friends and contacts and later made her passion into her vocation and got involved with Bangladesh crafts persons to promote textiles and handicrafts of the nation to the world.
Vivacious Bibi Russell
Her collections are bold in their hues
She also designed these bright bangles made of water hyacinth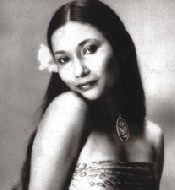 Supermodel-turned designer
5'10'' tall Bibi, during her modelling career spanning from 1986-1992, had walked down the ramp alongside Naomi Campbell and Claudia Schiffer as well as was the face for high-profile brands like Chanel, BMW, Toyota, Kodak etc. on the pages of Vogue, Cosmopolitan, Harper's Bazaar and others.
Bibi at a fashion show
Later, on a mission to revive the dying art of Bangladesh, Bibi expanded her work to India, Cambodia and Vietnam. Whether it's her sarees or ready-to-wear collection-- her catch-phrase are natural fibre and vibrant colours. Her collection also includes bags, shoes, stoles and bangles. She first showcased her collection at Kolkata Fashion Week in 2009.
Though brought up on the other side of the Indian border, she says, "I grew up with the culture of Tagore and the philosophy of Gandhi; I grew up with my feet rooted firmly in the subcontinent and I saw beyond the poverty."
Bibi is currently promoting Bangladeshi fabrics and handicrafts for domestic and international markets under the slogans 'Fashion for Development and Positive Bangladesh'. So far she has provided employment to thousands of weavers and artisans and has presented exhibitions in Europe, most of which were supported by UNESCO.
She says that all her fabrics are hand-woven and natural. "I do not use synthetic materials. The fabrics I use are khade, cotton, silk, gamchha (Bengali check-designed washcloth), jute, tribal textiles, recycled fabric and the opulent Jamdani, once used by the royalty.
She, alongwith the director's wife Nilanjana, recently designed the costumes for Goutam Ghosh's bengali film "Maner Manush" based on the life of Lalan Fakir.