Kalamkari painting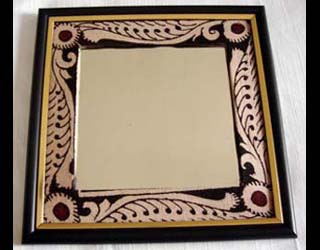 Mirror with Kalamkari frame: DWARAKA
Kalamkari has of late caught my fancy. I have started my collection with a bag from Fabindia. And then rediscovered two gorgeous Kalamkari pieces of textiles that I had bought from Mahua Sarkar Sen.She
works with Kalamkari Gurus & Award winners

.

My quest finally led me to some more designers who are rediscovering and propagating this art form.
The word Kalamkari or Qalamkari
has been derived from the Persian words kalam(pen) and kari(craftsmanship), meaning drawing with a pen.
It involves hand painting as well as block printing with vegetable dyes. Kalamkari art has evolved over the last 3000 years m

ainly in

two villages of Andhra Pradesh-- Srikalahasti, 80 miles north of Chennai near Tirupati and Masulipatnam, 200 miles east of Hyderabad.
Both centers have a distinct style of Kalamkari.

The art

evolved under the patronage of the Mughals and Golconda Sultanate. There are two styles of Kalamkari -- Srikalahasti and Machilipatnam.
Via
In Srikalahasti, artists make free-style drawings and fill them with natural dyes. Traditionally, this type of paintings were found on the scrolls, temple hangings and chariot banners and the themes constituted mythological figures. But now kalamkari can be found on saris, tunics, lampshades, bags etc. Smt Kamaladevi Chattopadhay, the first Chairperson of All India Handicrafts Board, popularised this art to the present form.
There are seventeen painstaking steps of dyeing in Kalamkari. In ancient times, groups of singers, musicians and painters, called chitrakattis, moved village to village to depict the great stories of Hindu Mythology.
Here are some more beautiful kalamkari works and a few designers who are working towards popularising it.
Angikam by Kuchipudi dancer Banasri Rao
Renowned Kuchipudi dancer Banasri or Vanashree Rao was often complimented for her designer blouses and exquisite saris. This prompted her to launch her

label Angikam to propagate the Kalamkari art.
A Padmashri recipient for her contribution to Kuchipudi dance form, Banasri's Kalamkari designs are a unique blend of classic and contemporary styles. During her frequent visits to Tirupati, she was introduced to the traditional craft of block and hand painting, which eventually prompted her to create her own designs.
"I put my aesthetic sense to use," Banasri,

a

former lecturer of philosophy, claims. She says that feeling beautiful is of utmost importance for her, and she hopes that her collection will have a similar effect on her customers.
Her concept blouses and dupattas are being sold at Kamala (Crafts Council of India's store), Kolkata, and Paddakam, at Santusti, Delhi.
Banas

ri

also gives new life to old saris by combining two or more saris a client may give her, and,creates a new sari with appliqué work and embroidery.
Banasri in her creation: India Today
A Kalamkari Blouse: Telegraph
Banasri and her dancer husband Jayarama Rao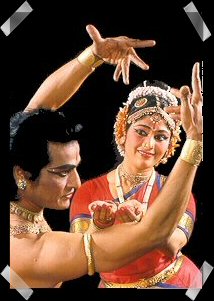 The couple performing on stage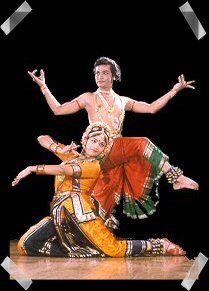 Via
Mora
by ex-media professional Ritika Mittal
Ritika Mittal of Mora
This how Mora describes itself: From the mesmerisingly delicate wiles of Naga Eri silk to the intricate playfulness of Maharashtrian Warli, bordered and splashed with the voluptuous bold beauty of Andhra Kalamkari, all of

M

ora's textile creations are a jigsaw puzzle of all-natural motifs, colours and textures from the remotest corners of India: a contemporary ode to the magical contradictions and mind-boggling variety of the country's ancient art.
Brainchild of Ritika Mittal, who wanted a break from her hectic schedule as a Supervising Producer for a

television channel

and was looking for something unique non-bling stuff for her own trousseau,
E

ach Mora piece is one-of-a-kind. Here are some kalamkari pieces from Mora. They have many more in their treas

ure trove.
Via
Mora on Facebook
Asmita Marwah
Asmita Marwah
Asmita Marwah
Asmita Marwah
Sasikant Naidu
By Sashikant Naidu